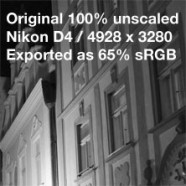 Mar

15
Tags
Share This
Nikon D4 High ISO images Original JPG
Similar page as previous post BUT with link to original unscaled jpg, Nikon D4 16 MP @ 4928×3280.
Enjoy at your own risk ;) Could take some time to view/load the files.
You can view the 100% jpg files in each gallerie by right clicking and selecting" View Image", save as you wish. Back links always welcome!
Nikon D4 was set up as follow:
Primary slot: XQD (RAW files) with Sony 16GB XQD
Secondary slot: CF SanDisk Extreme Pro 16GB 90MB/s UMDA 7
Image Quality: NEF (RAW) + JPG fine
Image Size: Large
JPEG compression: Size Priority (Optimal quality would have been a better choice)
NEF (RAW) recording: Uncompressed 14-bit
Picture Control: SD Neutral
Color space: sRGB
Active D-Lighting: OFF
Vignette control: OFF
Auto distortion control: OFF
Long exposure NR: OFF (obviously)
Post production in Adobe LR4, no processing at the exception of some fast white balance corrections. No sharpening or noise reduction used.
JPEG exported @ 65% compression NO SIZE REDUCTION, original format of Nikon D4 4928×3280.
Click on the images to open the related Nikon D4 High ISO galleries
HANDHELD IMAGE SET FROM ISO 6400 TO 204800 / AF-S NIKKOR 35mm F1.4G
DIVERSE HANDHELD SAMPLES @ ISO 12800 only / AF-S NIKKOR 35mm F1.4G
TRIPOD IMAGE SET FROM ISO 100 TO 204800 / +1EV increment / AF-S NIKKOR 85mm F1.4G
TRIPOD IMAGE SET FROM ISO 100 TO 204800 / +1EV increment / AF-S NIKKOR 35mm F1.4G
(white balance correction in LR4)

Told you it was really dark outside…Check this short iPhone footage (no contrast or exposure corrections applied)
TRIPOD IMAGE SET FROM ISO 3200 TO 204800 / +1EV increment / AF-S NIKKOR 200mm F2G ED VRII
(white balance correction in LR4)
TRIPOD IMAGE SET FROM ISO 3200 TO 204800 / +1EV increment / AF-S NIKKOR 200mm F2G ED VRII